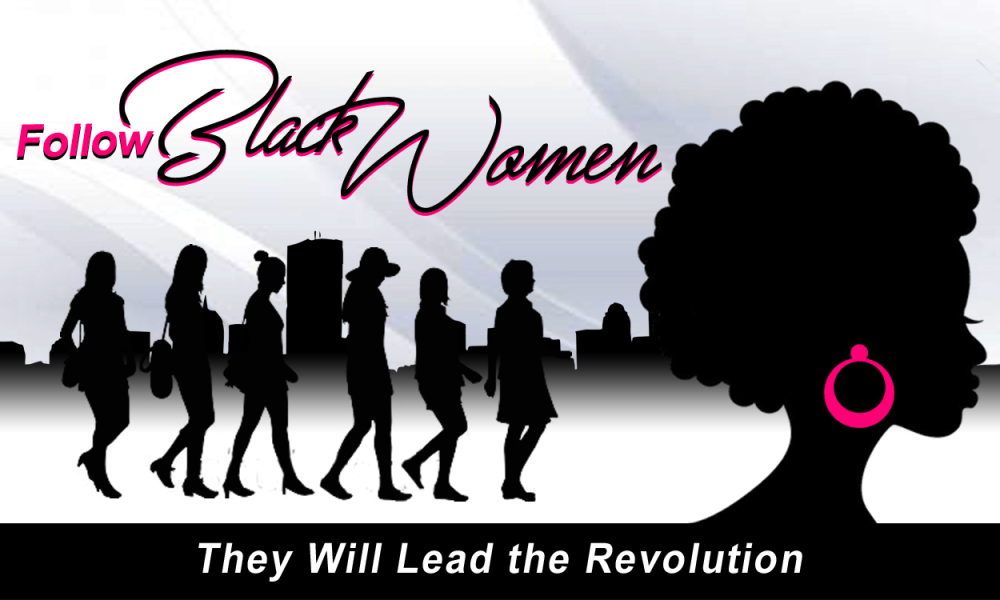 The Blackprint Part One: Why Black Women Will Lead the Revolution
A poignent and powerful mini-sesssion lays the foundation of this year's theme Follow Black Women. Catrice M. Jackson opens the conference with historical and contextual references and real stories to illustrate and substantiate why black women will lead the women's revolution and why you should Follow Black Women.  Catrice M. Jackson shares why the current feminist model (White Feminism) silences, marginalizes and oppresses black women, how non-black women can move to the side to clear space for black women to lead and how to support and amplify them while following their lead. 
Follow Black Women: A Spoken Word Presentation 


A dynamic, electrifying, and soul-stirring spoken word presentation performed by Tiffany Miller one of the featured conference speakers. Make no mistake about it, Tiffany's spoken word will give you something you can feel. Her message is fire for your spirit and balm for the black woman's soul. Tiffany Miller is pure Black Girl Magic! 
Getting Thru Grief: Embracing Discomfort + Doing the Work

Rachel Ricketts, in this session, will unpack and honour the various forms of loss and grief all hue-mans, but particularly Black womxn, experiences as a result of racism and sexism. The main takeaways include: an understanding of what grief is, how it is an inherent part of the racial justice struggle, the ways grief impacts + obstructs our ability to further racial justice and spiritual tools for Black womxn to honour our losses and for White womxn to move through discomfort and get to work. 
Reclaiming Our Narratives & Owning Our Stories: De-Centering The White Gaze


Layla Saad invites you to explore the insidious ways through which the White Gaze shapes how black women see themselves, how they connect with others and how they show up in the world - and what black women can do to de-center whiteness and re-center our blackness so that black women can heal, thrive and lead the way. Layla will also talk about her personal journey of challenging the White Gaze and how white feminism seeks to deny, silence and erase black women. Here's what you'll learn:
What the White Gaze is, and how black women and woc are seen through the white imagination.
How the White Gaze affects how we see ourselves (what self-judgements we hold, and how we hold our voices back because of the White Gaze).
The ways in which we are unknowingly complicit in perpetuating the White Gaze towards ourselves and other black and brown people.
How the White Gaze affects our creativity, our voice, the way we present ourselves and what we believe to be true about ourselves and the world.
How the White Gaze affects our ability to speak our truths and do our creative work to our fullest potential.
Fight the Power: Help Black Women Get Elected

Nekima Levy Pounds will shed undeniable light on the challenges that Black women face when running for political offices and how white allies can work strategically to help Black women win. This session will also discuss the role of white progressives in either working for or against Black women candidates. White women allies will learn how to effectively leverage their social capital, resources, and networks to help position Black women candidates to be successful. Black women will be equipped and empowered to run for office and win. 


Know Thyself, Heal Thyself, Lead Thyself

A Special Session for Black and Brown Women: Women of Color will discover how to lead others through expanding knowledge of self, forgiving yourself to heal yourself, and trusting your voice to lead unapologetically.  
Know Thyself: Define who you are to live as your authentic self.
Heal Thyself:   Learn how to do the work within to heal yourself and fulfill your soul purpose.
Lead Thyself:   Discover how to trust your voice, your knowledge and intuition to lead others.
Concurrent Session for White Women: Anti-Blackness: Name It, Own It, Eradicate It 

One of the major reasons you don't find black women in leadership positions is because EVERYONE is anti-black including, non-black people of color and black people, and especially white people. Many white women would never admit it, but they struggle taking leadership from black women, especially powerful and unapologetic black women. In order to truly support, nourish, amplify and follow black women you must discover where anti-blackness lives in you and name it, own it, and eradicate it. 
Panel Discussion: How to Get Out of the Way and Follow While Black Women Lead 

Catrice M. Jackson and all of the featured speakers will lead a discussion on why black women will lead the revolution, how black women can start their own revolution and how non-black women can create space for black women to lead while supporting their vision and amplifying their voice. 
A Call for Action

The conference will conclude with a clear, intentional, and tangible call to action and stragetic next steps to help attendees use their time, money, resources and energy to support, empower, nourish and amplify the voices and visions of black women worldwide.